MonsterFun.ca is the on-line gallery and information hub for the works of Charlie Grant.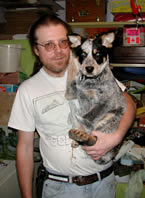 Charlie graduated from the Animation Program at Emily Carr School of Fine Arts in 1985. He spent the last 17 years working in both Canada and the United States on over 80 feature films and television productions including I Robot, Jumanji, Castaway, X-Files and Outer Limits.
Charlie incorporated his company Monster Fun Productions Ltd in July 2000 which provides exclusive makeup FX and props for the film industry and specializes in puppeteering, sculpting, model making, props, special-effects makeup, special-effects, and stop-motion animation. He enjoys a very active role in Vancouver's film industry.
He also has a company called "Monster Fun!" that deals exclusively in mail-order monster model kits. Monster Fun sculpts, molds, pours, packages, and promotes a series of 50's and 60's movie monsters. The company employes a few other sculptors, and they offer over 15 original designs. Monster Fun has customers from all over the world interested in this obscure hobby.